Tube strike: Disruption continues as strike ends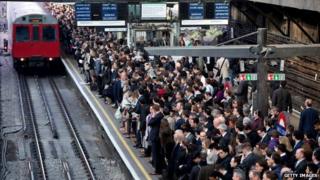 Tube services continue to be disrupted as a 48-hour strike by London Underground (LU) workers ends.
The strike, which started on Monday, finished at 21:00 BST on Wednesday.
LU managed to operate some level of service on all 11 lines on Wednesday. However, full service will not resume until Thursday.
Members of the Rail, Maritime and Transport (RMT) union took the strike action over plans to close all ticket offices at a cost of 960 jobs.
Talks are to be held at the conciliation service Acas on Friday to try and avert another strike next week, which is set to last three days from 21:00 BST next Monday.
The RMT and LU have met more than 40 times via Acas since the last 48-hour strike in February, but talks broke down on Monday.
In the latest strike, LU said more staff members had arrived for work than during the last strike in February and volunteers were helping passengers.
Mike Brown, managing director of LU, told BBC London News: "We don't think ticket offices are a part of our future but we wait to hear constructive ideas from any of the trade unions. Some of them have come up with constructive ideas.
"I look forward to hearing constructive thoughts from the RMT, but you don't have constructive talks when you hold London to ransom."
In response, Mike Cash, RMT's acting general secretary, said the transport authority told them they could have the review but ticket offices would remain closed.
"To us that's not the proper way to have a review because you're predetermining the outcome."
He added that the union wanted the full impact of closing all the ticket offices looked into, which is something he says has not happened.
On Tuesday, the RMT accused LU of "misleading" the public over the level of services and of leaving platforms and stations "dangerously overcrowded".
Mr Cash said: "It helps no-one for LU to deliberately mislead the public as to what services are available, as it simply piles dangerous levels of pressure on to the ghost trains and skeleton operations, leaving passengers and staff at risk."
TfL needs to save £4.2bn by 2020. It hopes to save £50m a year by closing ticket offices.
Mayor of London Boris Johnson wants legislation preventing strike action unless at least 50% of union members in a workplace take part in a ballot.
Mr Johnson told BBC London 94.9 he had received assurances from Prime Minister David Cameron.
He said: "I've had it from his lips in public, that on day one of a new Cameron administration he will be able to deliver a deal that gives exactly the protection that Londoners want.
"This is a strike by one of the unions concerned and a small minority have triggered that."
Asked if he thought another strike would be staged next week, Mr Johnson said: "I can't say what is in the minds of the RMT and their leadership.
"I think most people looking at the generosity of terms would say that's quite enough already."
Mr Cash called Mr Johnson's remarks a "wholesale assault on trade unions".
He accused him of using Londoners "as pawns in his personal crusade for the leadership of the Tory party".
He said reducing the numbers of Tube workers would make stations a "criminals' paradise", adding: "The political posturing by the mayor and his officials at London Underground and TfL must stop and talks based on RMT's proposed solution to the dispute must be reconvened."
'Yesterday was worse'
LU said 52% of services were running on Wednesday, up 2% on those running on Tuesday.
Extra bus services were in operation since the start of the strike, with some vintage models being brought back into use.
Billy Reeves, BBC London 94.9's travel reporter, said the roads other than in the West End and along the Euston Road had been no busier because of the strike. "Yesterday was worse," he added.
The DLR and London Overground lines are not affected by the strike action.
Among those affected were football fans travelling to Stamford Bridge for the Champions League clash between Chelsea and Atlético Madrid.
Chelsea FC advised fans to find alternative routes to the stadium, such as walking from Clapham Junction or taking buses from Hammersmith, as Fulham Broadway was closed before the match while West Brompton and Parsons Green closed at 21:30.