UK's first Hindu secondary school could open in Harrow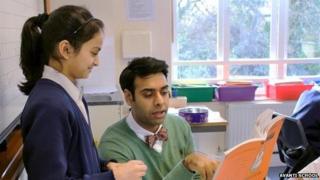 The UK's first Hindu secondary school has moved one step closer to being realised after a schools trust says it intends to open one in Harrow.
The Avanti Schools Trust, which runs several primary schools, wants to build a secondary school for 1,260 pupils.
A site has been found, but the trust has not put in planning permission.
Harrow Council said it would do its best to find places elsewhere for pupils who do not want to be taught at a faith school.
First free school
Whitchurch Playing Fields in Stanmore has been earmarked as a potential site.
A feasibility study carried out by the Education Funding Agency found the site was suitable for a secondary school.
The current Avanti House site on Common Road would continue as the permanent home for the primary section of the all-through school, while the secondary part of the school would move to the new site once final planning permission has been approved.
Avanti House secondary school will be the borough's first free school but will still be under Harrow Council's schools allocations policy, which means it has a duty to place children in suitable schools.
Although there is backing for the new school, there are also potential pitfalls.
Last week, the BBC reported that non-Sikh parents were refusing to send their children to a proposed Sikh school in Stoke Poges after Buckinghamshire County Council allocated them places.
Chris Spencer, the interim director for children and families at Harrow Council, said: "Where there's a very strong preference not to place a child in a school which has a particular faith, we will try our best to accommodate that.
"Where it does arise there is an established appeals process that parents can utilise to express their views for a school other than, in this case, the Krishna Avanti school."
The Avanti Schools Trust still need to submit a formal planning application to the council but if it is approved, the school could be opened by September 2015.
You can hear more on this story on the BBC Asian Network on Thursday.