Thousands of volunteers door-knock to raise election awareness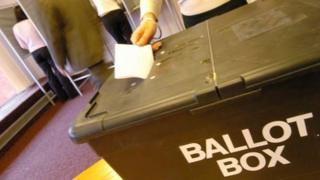 Thousands of volunteers are door-knocking across England to sign people up to electoral registers.
More than 4,000 people have registered for Join The Vote to offer people advice and registration forms for the local and European elections on 22 May.
Rose Lowe, one of the organisers, said: "Join The Vote aims to add thousands more people to the electoral register."
The Electoral Commission said it supported the initiative. It said people must register by 6 May to vote.
'Punish and reward'
Ms Lowe from Bite the Ballot said: "Essentially we want Join The Vote to prove power in numbers and that people, neighbourhoods and communities care deeply about the issues that affect them.
"Being on the electoral register makes you visible to politicians and decision-makers because you have the power to punish them, and reward them, at the ballot box."
According to Bite the Ballot and 38 Degrees, which jointly organised the event, up to 6.5 million UK voters are missing from the electoral register. Only 56% of people aged 19-24 are on the register.
Rania Ramli, 15, from Stratford, east London, who is volunteering to register people in the E15 postal area said: "I'll speak to everyone, but personally I want to get young people to vote.
"Engagement is important because you're only going to be listened to if you've voted."
In a statement, the Electoral Commission added: "Many people will see Join the Vote volunteers on streets this weekend, but those who miss them can still visit www.aboutmyvote.co.uk to download a registration form."