New Malden deaths: Arrest after three children found dead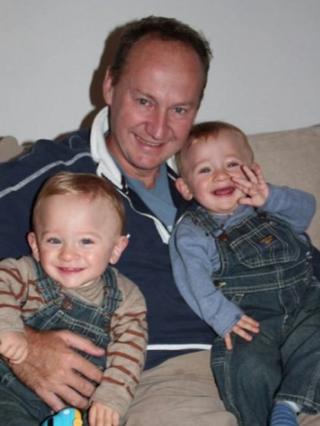 A woman believed to be the mother of three children found dead at a south-west London home has been arrested on suspicion of murder.
Officers were called to a property on Thetford Road, New Malden, at about 21:30 BST on Tuesday.
A girl, aged four, and twin boys, aged three, were pronounced dead at the scene.
It is understood all three had a disability and were cared for by their 42-year-old mother Tania Clarence.
The children are believed to have been born with a life-limiting genetic condition.
Their father Gary Clarence, who works as a director at City bank Investec, was not at home at the time of the deaths but is understood to have been informed of the tragedy.
An elder child, thought to be around seven or eight years old, was also living at the house but was in good health.
On Tuesday night, a 42-year-old woman was taken to hospital for treatment for minor injuries and later discharged.
She was then arrested on suspicion of murder and taken into custody at a south London police station.
Officers are not looking for anyone else in connection with the incident and are currently not giving any details on the possible cause of the deaths.
Post-mortem examinations will be arranged in due course, police said.
BBC London 94.9's Jason Rosam said neighbours told him the family had recently moved into the house.
He said people in the area were "shocked and confused" by the deaths and that several evidence bags had been removed by officers from the property.
A neighbour, who did not wish to be identified, said the family were originally from South Africa and had moved into the the large semi-detached house with their four children a year ago.
"They are a very, very lovely couple. I saw them all the time about with their children," she said.
She said the father works in the City and the mother is a full-time carer for her children.
They moved into the house after it underwent a "massive" refurbishment.
"She is such a lovely person," the neighbour said of the mother. "Her life revolves around the children."
Investec Bank, where Mr Clarence works as the director of investment banking for healthcare, said in a statement that the firm's thoughts were with him.
"Gary Clarence is a valued colleague and has worked with us for many years," it said.
"We do not know the facts at this time but our thoughts are with the Clarence family.
"We are doing all that we can to help Gary and his eldest child and ask that their privacy is respected."
According to the company's website, qualified solicitor Mr Clarence leads a team of five corporate broking specialists.
Retired nurse and health visitor Joy Devis, 86, said the news of the deaths was a "huge surprise and shock".
"They are a delightful couple, they seemed to be very happy," she said. "Their children were super, lovely children. They were very happy, there was a very nice atmosphere there."
Mrs Devis said the family had help from a nanny and a maid.
Ben Worsfold, 25, who lives in a neighbouring street, brought his son Leon, 10, and daughter Casey, two, to leave teddy bears on the driveway of the house.
He said he had struck up a conversation with Mr Clarence three weeks ago opposite the house. "He was friendly," he said.
Kingston borough commander Ch Supt Glenn Tunstall said additional officers were patrolling the area and were available for residents to talk to.