Kew Gardens job cuts 'break the law'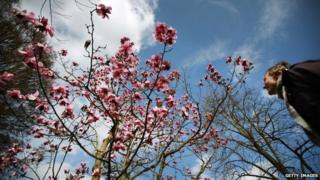 Axing up to 125 jobs from the Royal Botanical Gardens in Kew would break the law, a union has claimed.
GMB, which represents horticultural workers, said the cuts would prevent Kew from fulfilling its legal obligation as an educational and scientific resource.
The gardens in west London face a £5m shortfall in revenue in the coming financial year.
Defra said it was working with Kew to "explore further options".
The funding Kew receives from the government will decrease by £1.5m over two years. About 750 people work at the gardens.
Paul Grafton from GMB said: "Under the 1983 National Heritage Act, the government committed to ensure that Kew is adequately resourced to fulfil its statutory obligations, which include: research; providing advice and education.
"The government is no longer fulfilling its role to allow Kew to meet these obligations."
The union has also set up a petition which calls on Environment Secretary Owen Paterson to reverse the cuts.
It has attracted the support of nearly 70,000 people including Sir David Attenborough.
He said: "People who think it is just a place to go to look at pretty flowers and flower beds are mistaking the importance of Kew Gardens.
"The Seed Bank is of world importance and it should be supported by the government like a proper institution or university."
'Modest' price increase
The Public and Commercial Services Union, which is also involved in the dispute, said Kew's ability to help conserve plants, fungi and the environment would be hit by the cuts.
General Secretary Mark Serwotka said: "There is clearly mounting anger and concern about the cuts to Kew's budget, which we believe will seriously damage the institution's crucial scientific and environmental work."
Speaking to BBC London, Kew's director Richard Deverell said: "We are going to have to reduce headcount quite significantly.
"Our aim is to do that while avoiding redundancies, certainly compulsory redundancies - although that may not be possible - and we'll certainly seek to make these changes through genuine efficiencies which will have minimum or zero impact both on the visitors and our scientific colleagues."
He added that admission prices may also have to increase but, this would be done "modestly and carefully".
Defra said in a statement: "Like all departments, we are making savings and playing our part in reducing the deficit but we are pleased we have been able to offer relative protection to our funding at the Royal Botanical Gardens.
"They are funded from a variety of sources and we continue to work closely with Kew, to help them explore further options."
It later said the National Heritage Act does not commit the government to a set level of funding for Kew but it does gives the secretary of state discretion to fund it.