Heathrow Express workers plan 48-hour strike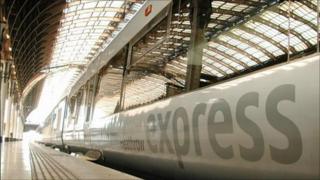 Rail workers on the Heathrow Express service will be staging a 48-hour strike, the Rail, Maritime and Transport Union (RMT) has announced.
Members of the union plan to walk out on 03:00 BST on 29 April.
The strike is over plans to reorganise the workforce which the union claims could threaten more than 200 jobs.
Heathrow Express said it hoped to resolve the dispute to avoid "damaging industrial action", but said it had a "robust" contingency plan in place.
The strike is due to be held just eight hours after London Underground workers are due to start five days of strike action over ticket office closures.
'Completely unacceptable'
RMT members at London Underground will walk out from 21:00 BST on 28 April for two days and again on 5 May for three days.
Heathrow Express managers hope that reorganisation plans will help to save £6m over the next five years but the RMT said this would mean some 201 jobs would be placed under threat.
Acting general secretary Mick Cash said: "RMT has repeatedly made it clear the Heathrow Express proposals are completely unacceptable and under no circumstances will the union tolerate a situation where members are made to pay for the company's cost-cutting agenda."
Keith Greenfield, managing director of Heathrow Express, said: "A strike is not the answer. It will increase costs when we are trying to reduce them, taking us further away from what we need to do to secure our business for the future.
"However... we have a robust contingency plan that will enable us to run regular trains for as long as any industrial action lasts."