Home Office reverses London kidney patient donor decision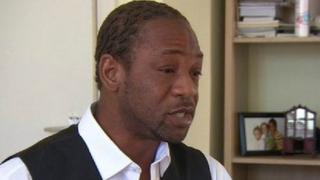 A woman is to be allowed into the UK to donate a kidney to her brother after the Home Office reversed its decision to deny her entry.
Oliver Cameron, from north-east London, is suffering kidney failure and has to undergo dialysis three times a day.
His sister Keisha Rushton, who is a perfect donor match, had her request to travel to the UK from Jamaica to donate the organ initially refused.
The Home Office confirmed it had since reversed the decision.
A Home Office spokeswoman said: "All applications are considered on their individual merits, including any compelling and compassionate circumstances, and in line with the immigration rules."
'Love my brother'
Ms Rushton's application had been refused by the British High Commission on the grounds that she may not return to Jamaica after the operation.
The mother-of-seven said she had no intention of staying in the UK as she had children and a hairdressing job at home.
She told BBC News: "I love my brother and I've made up my mind to do this for him."
Mr Cameron, who is a British citizen, said he had not been able to work for the last two years because of his illness and the transplant operation would be a chance for him to "get back out there."
Had the Home Office not reversed its original decision, he faced a wait of up to three years for a donor.
Ms Rushton is expected to arrive in London within days.