Best of England to be displayed on South Bank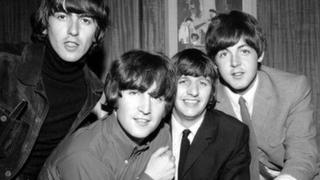 An exhibition showcasing the best of England, from the Beatles to Bakewell pudding, will open on St George's Day.
Marmite and the Magna Carta were also suggested to be included in the exhibition as part of VisitEngland's campaign.
The Hall of Fame Exhibition will open on Wednesday for a week at Observation Point on London's South Bank.
Other submissions for the free open air show included Harry Potter and One Direction's Harry Styles.
Rugby 'gold'
A panel of experts has awarded a bronze, silver and gold across six categories: history and heritage; the great, the good and the notorious; food and drink; inventions and discoveries; sport and leisure; and culture and entertainment.
The sandwich came out on top in the food and drink category while the incidental birth of modern rugby during a football game at Rugby School in Warwickshire was given gold in sport and leisure.
National Trust founder Octavia Hill was given gold in the great, the good and the notorious category, while Isambard Kingdom Brunel's engineering masterpieces in Bristol were given gold in the inventions and discoveries category.
The Beatles were awarded the top prize in culture and entertainment by experts while Portsmouth Historic Dockyard, the world's oldest industrial complex, got gold in the history and heritage category.
VisitEngland said it wanted to find out the best of what England has brought to the world and what makes the country such a diverse and fascinating place to visit and explore.
The tourist board received almost 1,000 submissions for the show and the results of the people's choice will be revealed on the show's opening day.