Tube staff plan five days of strikes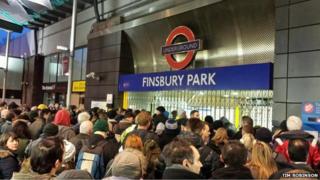 London Underground workers are to take five days of strike action over Tube ticket office closures, the RMT Union has announced.
The row is about the closure of all 260 Tube ticket offices and 960 job cuts.
Members will walk out from 21:00 BST on 28 April for two days and again from the same time on 5 May for three days.
Widespread disruption was caused in February when Tube workers took strike action for two days. Further industrial action was postponed for talks.
At the time, the unions, RMT and TSSA, said London Underground had agreed to hold two months of talks, which would include a station-by-station review of the ticket office closures.
Tony Benn
The first two days of strike action will take place ahead of a May Day event in memory of former RMT leader Bob Crow, who died of a suspected heart attack on 11 March, aged 52. He was prominent in the talks to avert a second strike earlier this year.
The event will also be in remembrance of Tony Benn, the politician and campaigner who died several days after Mr Crow.
London Underground (LU) said its proposals would see "unparalleled levels of face-to-face customer service, as seen during the London 2012 Games".
LU wants to introduce a 24-hour Tube service at weekends from 2015 and have more staff visible on platforms.
It said it had made significant changes to its proposals following more than 40 meetings in eight weeks, including the guarantee of having supervisors at smaller stations at all times. It also reiterated that there would be no compulsory redundancies.
The latest Tube strike was announced on the same day as TSSA Union members voted to take strike action in a row over cuts to final salary pensions and a wage freeze.
The union said 1,000 staff had backed the action 3-1, with the turnout among staff being 47%.
A walkout could be within the next four weeks, and the union added it would not coincide with the RMT strike days.
The Mayor of London, Boris Johnson, said: "Three of the four unions involved in these negotiations are doing the sensible thing - talking, listening and discussing tube modernisation with London Underground, around a negotiating table."
He added: "Rather than threatening more disruption to the lives of hard-working Londoners they should call off the strikes and, like the three other unions, get back round the table and talk to London Underground."
Transport for London said disputes were solved by talking and not via strikes.