East London arsenal one of biggest hauls, say police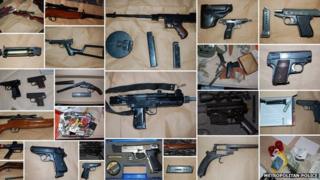 One of the capital's biggest gun hauls has been made in east London, the Metropolitan Police have said.
The 30 firearms seized from an address in Leyton include assault rifles, sawn off shotguns and a Thompson machine gun.
A large amount of ammunition was also seized in the raid on Wednesday morning.
Acting Det Supt Gary Bruce said the size of the haul was "exceptional".
He added: "The danger of these weapons in the wrong hands cannot be overestimated."
A 51-year-old man was arrested by the Waltham Forest Gangs Task Force and remains in custody, the police said.
The Met said Operation Trident detectives were investigating.
The force said in the past two years shootings in London had been reduced by 40%.
Officers have seized more than 320 firearms since April 2013.