May Day march to honour Tony Benn and Bob Crow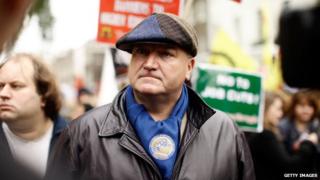 This year's annual May Day event is set to honour the lives of rail union leader Bob Crow and veteran politician Tony Benn.
The RMT boss and the Labour stalwart, who died last month within days of one another, will be remembered at a special event in London on 1 May.
Organisers said they wanted to send out the message: "Don't mourn - organise."
May Day has been celebrated in London since the 1880s, with groups including trade unionists holding a march.
This year, the march will be followed by a rally addressed by Labour and union representatives in Trafalgar Square.
Tony Lennon, chief steward from the London May Day Organising Committee, said: "This year's London May Day presents a huge opportunity for the trade unions and the community to both pay tribute to the massive contribution made by Bob Crow and Tony Benn to the fight for workers' rights and to send out the clear message that the battle goes on.
"The traditional London May Day march has always been a celebration of international solidarity, and the 2014 event will do just that in honour of Bob and Tony."
Mr Crow died of a suspected heart attack on 11 March, aged 52. He had led the RMT since 2002 and became one of Britain's most high-profile union leaders.
Veteran left-wing campaigner Mr Benn, 88, died at his home in west London on 14 March. He became an MP in November 1950 and served in the cabinet under prime ministers Harold Wilson and James Callaghan.