Cleared Blakelock suspect Nicholas Jacobs 'relieved'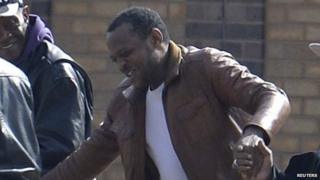 The man cleared of killing PC Keith Blakelock has expressed relief that a "just conclusion has at last been reached".
Nicholas Jacobs was found not guilty on Wednesday of the murder and manslaughter of the officer who was stabbed 43 times at Broadwater Farm.
Mr Jacobs thanked supporters who, he said, had been a "source of strength and solace throughout this ordeal".
He said his thoughts were with PC Blakelock's family.
His solicitor, Tony Meisels, told BBC News the case was a prosecution that "should never have come to burden a criminal court".
"Mr Jacobs has had the cloud of the investigation into PC Blakelock's tragic murder hanging over his head since he was first arrested in 1985," Mr Meisels added.
"Mr Jacobs maintained his innocence from the outset."
The 45-year-old denied murdering the officer, who was stabbed during riots in north London in 1985.
On Wednesday, after four hours of deliberations, Mr Jacobs was found not guilty of murder and manslaughter.
But he was kept in prison overnight as administrative offices had closed.
Two men who were convicted of PC Blakelock's murder, but the conviction was subsequently overturned, attended a press conference on Friday organised by Tottenham Rights Group, which has been a vocal supporter of Mr Jacobs.
Mr Jacobs, who was due to be at the press meet, did not attend and organisers said he was "very emotional" after his acquittal.
PC Blakelock was attacked on the night of 6 October 1985 while protecting firefighters tackling blazes started during the riots.
He was repeatedly stabbed and attempts were made to decapitate him.
In 1987, three men were convicted of the murder, before being freed four years later on appeal.