Nine held after a sub-machine gun is found in house raid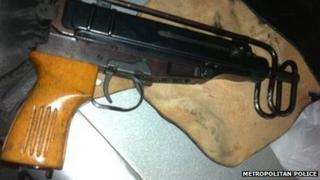 Nine people were arrested when a sub-machine gun, 70 rounds of ammunition and a large quantity of cannabis were found at a house in south London.
Police officers executed a firearms warrant at a house in Commonside East, Mitcham, just before midnight on Friday.
Six men and three women aged between 18 and 54 remain in custody at various south London police stations.
A Met spokesman said one woman was Tasered during the raid.
All nine people have been arrested on suspicion of firearms and drugs offences
Officers also found £3,000 in cash and two magazine clips.
Det Supt Damian Allain of the Trident Gang Crime Command said: "This is an extremely dangerous weapon capable of shooting 850 rounds a minute.
"In the wrong hands this firearm is deadly and is now safely off the streets of the capital."