Pet parrot Wunsy saves owner from park attack in London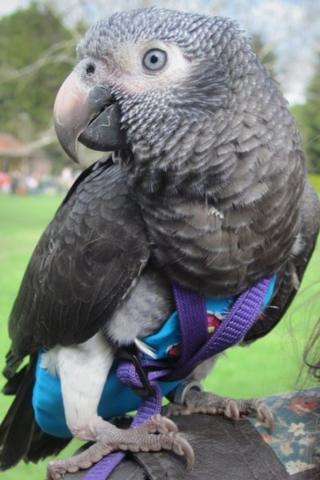 A pet parrot saved its owner after she was pushed to the ground in a north London park, police have said.
Wunsy, an African grey, was being taken to fly in Sunny Hill Park, Hendon, when its owner Rachel Mancino was grabbed and pushed.
The bird, which was on its owner's shoulder, flapped its wings and squawked, causing the male attacker to run off.
Ms Mancino, 25, said Wunsy was a "weapon and lifetime companion".
"Initially I thought the person was trying to steal my bird or something, but I was just glad my parrot was still there," she told BBC London 94.9.
"From the amount of pressure that he put I thought the bird might be dead even, so I was just so glad she was still there."
She added: "She's still a baby, she's still mastering her coming-to-the-rescue technique."
PC Chris Cutmore said the assault last Friday was a "random attack on a woman walking out of a park".
"Although the parrot Wunsy came to her rescue, we are obviously very keen to trace the suspect and prevent him from attacking anybody else," he said.
Police said the attacker was a white man aged 25 to 35 with short blond hair. He was wearing beige trousers and had a dark black rucksack.