London City Airport 'should close', think tank says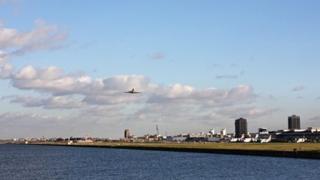 London's City Airport should close and its site be redeveloped to create jobs, boost local business and build new homes, a think tank has said.
The airport accounts for just 2.4% of London's total flight demand, the report from the New Economics Foundation (NEF) said.
Its passengers could use Heathrow, Gatwick or Stansted, NEF claimed.
A London City Airport spokeswoman said the airport "facilitates inward investment and economic growth".
'Gives very little'
The report by NEF claimed: "City Airport creates little value - despite occupying 500,000 square metres at the heart of London, its direct contribution to the UK economy in 2011 was £110m - less than a fifth of the nearby ExCeL Exhibition and Conference Centre."
NEF economist Helen Kersley said: "Given our current dire shortage of homes, as well as the UK's international commitments to cutting its carbon emissions, we must seriously question the logic of locating an airport on precious inner city land.
"London City Airport places a significant environmental and social burden on neighbouring communities and gives back very little in return."
A London City Airport spokeswoman said: "The only airport in London provides a direct route to the capital's business, financial and political centres, facilitating inward investment and economic growth."
She added closing the airport would put 2,000 people out of work, prevent the creation of a further 1,500 jobs by 2023 and remove £750m a year from the economy.