Report says 24,000 homes in London at risk of river flooding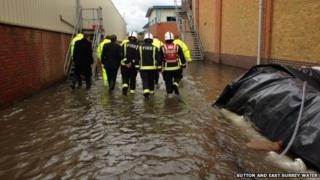 About 24,000 properties are at significant risk of river flooding, a London Assembly report has said.
The study says the Environment Agency estimates current plans will protect 10,000 of these.
But the Flood Risks in London report added many thousands more homes, housing some 140,000 Londoners, are at high risk of surface water flooding.
The London Assembly environment committee also warns the risks of flooding may be increasing.
'Inevitable flooding'
It said the effects of climate change in southern England could mean drier summers and wetter winters.
The report concludes that London needs sustainable drainage and river restoration "which create space for flood waters to be held higher in the river catchment and soak back into the ground".
Murad Qureshi AM, chairman of the Environment Committee said: "London needs to bring back its rivers to protect itself from inevitable flooding in the future.
"The more we can restore natural banks to London's rivers, the less likely it is that heavy rain will cause the degree of flooding we saw in the early part of this year."
He added: "Tens of thousands of properties are at high or medium risk of river flooding.
"This is not just from the Thames, but also from the many smaller rivers that flow into it.
"A lot of people don't know where their local rivers are, until they escape their channels."