Tube food trend victims told to tell police if they feel 'uncomfortable'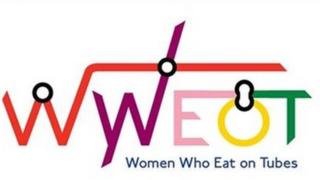 Women are being encouraged to contact the British Transport Police (BTP) if they find themselves at the centre of a social media trend and feel threatened.
The Women Who Eat on Tubes Facebook page urges its 16,000 followers to take and upload photos of women eating on the London Underground.
BTP said if anyone felt "uncomfortable" they should contact the force.
Transport for London said it was not illegal to take pictures but should be done with "common sense" and "respect".
Subjects are 'cherished'
The About section of the Facebook group said the trend was about being "observational not judgemental. It doesn't intimidate nor bully".
It added: "Subjects are embraced... and cherished. We celebrate and encourage women eating food on Tubes, we do not marginalise them. We always look for the story in the picture."
But Sophie Wilkinson, who was pictured on the site, said: "The comments underneath are very humiliating.
"I'm not a fan of eating on the Tube, I personally think there is a lack of decorum to it but I shouldn't be made to feel that way, it's not illegal."
She added: "I do think there is a wide trend of stranger-shaming and I think I want people to know that these things aren't contained, the photos don't live on your phone it's the moment you upload them and the information disseminates."