London's Tin Pan Alley gets blue plaque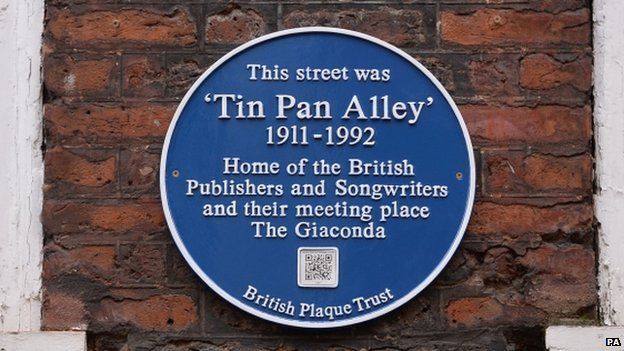 A central London street known as Tin Pan Alley - a focal point of the British music industry - now has a blue plaque marking its significance.
Sixties pop singer Donovan gave a performance of a song that he had written especially for the occasion in Denmark Street.
He sang outside the Giaconda Cafe, which was frequented by the likes of David Bowie and Jimi Hendrix.
The plaque was unveiled by former Radio 1 DJ Mike Read.
The plaque reads: "This street was 'Tin Pan Alley' 1911-1992. Home of the British Publishers and Songwriters and their meeting place The Giaconda."
Artists including Bowie, The Rolling Stones, The Kinks, Black Sabbath, The Sex Pistols and Paul Simon recorded in one of the studios on the street.
And the publications New Musical Express and Melody Maker also began there, according to the British Plaque Trust which organised its installation.
The name Tin Pan Alley was originally given to an area in New York which had a number of music publishers and songwriters in the late 19th Century and early 20th Century.
Denmark Street itself had a recording studio called Tin Pan Alley.
The plaque has a QR code from which people can access more information.
Related Internet Links
The BBC is not responsible for the content of external sites.