PC Keith Blakelock murder trial: Prosecution 'deplorable'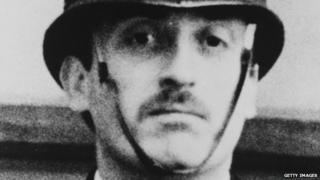 The prosecution of a man 28 years after the murder of PC Keith Blakelock in the Broadwater Farm riots has been described in court as "deplorable".
PC Blakelock was stabbed 43 times when he was set upon by an armed mob during the riots in Tottenham, north London, in October 1985.
Nicholas Jacobs, 45, denies murdering the 40-year-old officer.
His lawyer Courtenay Griffiths QC said pursuing Mr Jacobs so many years later was a "bleak and dismal story".
"In my mind, the investigation in 1985-86 had more in common with the witch hunt of the 17th Century than an orthodox attempt to solve a murder," he told the jury.
"If the evidence really suggested this man, Nicky Jacobs, has a case to answer, I have to repeat the question - why has it taken so long to bring it?"
He continued: "Do the prosecution really believe in the case they have brought?
"Otherwise, why take so long because, to our minds, there are a great deal of deplorable aspects of this case but the most deplorable thing is the fact that you have now been asked to achieve the result not achieved in 1987 because of police malice and corruption."
'Incoherent' evidence
Turning to the evidence in the case, he said police had known about a rap poem, in which Mr Jacobs allegedly described the murder, since 1988.
By that time, they also had evidence he was on the Broadwater Farm Estate on the night of the riots.
Five years ago witness Q - who has given evidence at the trial - came forward, he said.
"Why have we had to wait so long?" asked Mr Griffiths.
He described the three key witnesses who gave evidence in Mr Jacobs's trial as "vulnerable" individuals.
Their evidence was "bereft of coherence, riddled with lies, incoherent and contradictory", he said.
On Mr Jacobs' decision not to go into the witness box, he asked: "Why should he answer?"
Of how the jury should treat the rap poem, Mr Griffiths said: "Bob Marley wrote I Shot The Sheriff but I have not heard of him being put on trial for murder."
The case continues.