Man stabbed to death in Ilford carjacking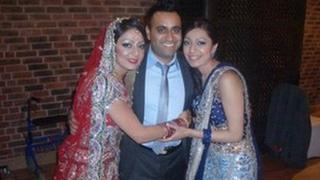 A man was stabbed to death when he tried to prevent his car being stolen in east London, a court heard.
Harjinder Singh Bhurji, 32, was attacked at the wheel of his Mercedes in Stoneleigh Road, Ilford, as he chatted to a friend in September 2011.
The carjacker drove off leaving Mr Bhurji dying by the road, after he had handed over his car keys.
Rory Gordon, 23, of Chadwell Heath, and Jae'Don Fearon, 21, of Chingford, east London, deny murder.
The prosecution said Mr Gordon was the carjacker and attacker who was working in a "joint enterprise" with Mr Fearon.
The pair decided to carry out the carjacking together with "the use of a knife and if necessary the actual use of the knife to do so", the prosecution said.
'Mistake of protesting'
The jury heard that Mr Gordon approached the car from the passenger side and pulled Mr Bhurji's female friend out of the passenger seat.
The driver tried to prevent the theft and threw the car's keys behind his seat.
But after being stabbed in the heart, the 32-year-old managed to hand them over before collapsing by the road, as the vehicle was driven off "at speed".
The car's tracking device led officers to a place near Epping Forest where it had been parked, but victim's mobile phone was gone.
Prosecutor Sally O'Neill QC said: "Mr Bhurji made the mistake of protesting against his car being taken."
The defendants were put at the scene of the crime by CCTV footage in the area and mobile phone data.
Mr Gordon drove to the scene in a black Corsa and left in the stolen Mercedes.
It was Mr Fearon who later picked him up in the Corsa after the stolen car was abandoned, the jury was told.
A friend later paid £100 for the stolen phone, the prosecution said.
Andre Campbell, 23, of Chingford, Essex, denies handling stolen goods.
The case continues.