London councils 'failing cyclists on safety'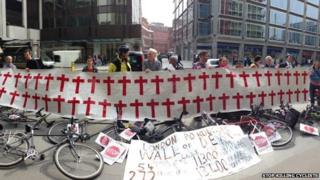 London councils are failing to provide safe and protected cycling lanes, according to a campaign group.
Stop Killing Cyclists said 24 boroughs had not installed any segregated lanes since May 2010 and that many did not have any such lanes.
A protest was held in Westminster to mark the 54 cycling deaths in London over the past four years.
Boroughs were committed to making roads safer, the umbrella group London Councils said.
The action group said 28 boroughs responded to a series of Freedom of Information Act requests:
Twelve boroughs (Barnet, Bexley, Bromley, Enfield, Haringey, Havering, Hounslow, Lambeth, Richmond, Sutton, Tower Hamlets and Wandsworth) do not have any segregated cycle lanes. About 300m (1,000ft) of Kensington and Chelsea's cycle lanes are segregated
Only three boroughs (Ealing, Camden and Waltham Forest) have installed segregated cycle lanes since the last election
The total spent by all boroughs over the last four years on segregated cycle lanes was £800,000, which equates to £7,000 per borough per year since 2010
Four boroughs (Barking, Barnet, Hounslow and Waltham Forest) plan to install segregated cycle lanes this year
In 2012, Camden spent £11.7m on road safety, which is by far the most since the 2010 elections, Department of Transport figures. The average spend was £2.6m.
Donnachadh McCarthy, a co-organiser of Stop Killing Cyclists, said: "Londoners should ask every candidate in May's local and European elections if they will support 10% of their transport budget to be spent on segregated cycle lanes."
A spokesman for London Councils said: "Boroughs are working hard, as are other agencies, to reduce accidents, with 20mph speed limit zones in place, new cycling infrastructure projects under way and a programme, run in partnership with Transport for London, to target the capital's most dangerous junctions.
"London Councils recently consulted on bringing in extra cycle safety measures applying to lorries, and £100m has been awarded to seven boroughs to enhance cycling facilities."