Kew Gardens cuts may cause 'irreversible damage'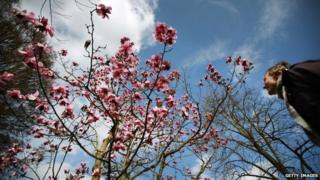 Cuts which could see more than 120 jobs axed from the Royal Botanical Gardens in Kew could cause "irreversible damage", unions have warned.
The gardens in west London face a £5m shortfall in revenue in the coming financial year.
Prospect and the Public and Commercial Services (PCS) unions have called for a "proper debate" to be held on the botanical gardens' future.
Kew said it was developing strategies for building commercial growth.
It hopes to fill a third of the shortfall that way.
Last year, the site saw a 29% rise in visitors.
'Short-sighted approach'
The Prospect union said Kew's ability to help conserve plants, fungi and the environment would be hit by the cuts.
Negotiator Julie Flanagan said: "The government's short-sighted approach to the institution's funding is hypocritical given that its Heritage Act requires Kew to carry out its plant and fungal conservation work.
"Kew does this work cheaply and does it cheaper and cheaper every year."
She said reviews had recommended public funding for the gardens should be maintained or increased.
PCS general secretary Mark Serwotka said: "This is not only a world-famous visitor attraction, it is a centre of scientific excellence and conservation, and it is a scandal that it is being cut to the bone because of a political obsession with austerity."
In a statement, Kew said it was working with its 750 staff to explore various options.
These include "voluntary exits, reduced working hours and unpaid leave, before moving onto consideration of redeployment, voluntary redundancies or, as a last resort, compulsory redundancies".
A spokesman for the Department for Environment, Food and Rural Affairs (Defra) said: "Like all departments we are making savings and playing our part in reducing the deficit, but we are pleased we have been able to offer relative protection to our funding of Royal Botanic Gardens, Kew.
"We continue to work closely with Kew to help them explore other funding options."