Hundreds evacuated after fire on New Broad Street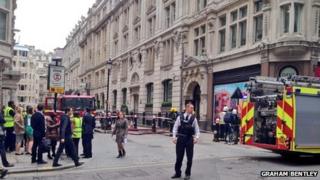 About 1,500 people were evacuated from a building in the City of London after a fire broke out in the basement.
Thirty firefighters and six fire engines were sent to New Broad Street just before 14:45 BST, London Fire Brigade (LFB) said.
The blaze damaged an electrical cupboard in the basement of the six storey building.
LFB said the cause of the fire, which was brought under control just after 17:00 BST, is under investigation.
People working in the building, which houses a shop and offices, left the premises before fire crews arrived.