Enfield bins body: Damian Walczyk jailed for life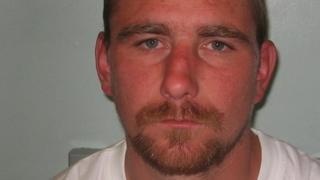 A rough sleeper has been jailed for a minimum of 18 years after he was found guilty of murdering a fellow homeless man in Enfield.
Damian Walczyk, 29, was jailed at the Old Bailey on Monday after he was found guilty at the same court in February.
Alfred Stemporowski, 55, died from major chest injuries after Walczyk punched him repeatedly in the face and upper body, the court heard.
His body was discovered in a refuse building in June last year.
The court heard that he was living there with Walczyk and a married couple who witnessed the violent assault.
When the couple asked him why he was attacking Mr Stemporowski, he said: "For the love of my country" which is a Polish phrase that means doing something for no reason at all.
Det Ch Insp Sheila Stewart said: "The level of violence he used was terrifying and he used this to intimidate the witnesses present.
"He used his muscular build and propensity for violence to assault and intimidate the persons he lived with and ultimately murder an innocent man."