Prince Philip makes 'mice query' at Lloyd's of London visit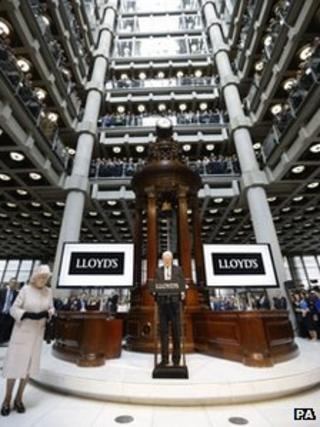 The Duke of Edinburgh joked about whether the Royal Collection is insured for damage by mice, during a visit to Lloyd's of London.
The Queen and Prince Philip visited the specialist insurers as part of its 325th anniversary celebrations.
He asked about cover for paintings including a Rembrandt and was told "everything is covered".
Lloyd's provides cover for specialist risks including cyber and space and insured David Beckham's legs for £100m.
Bell rung twice
During the visit the Lutine Bell was rung twice - a signal of good news - to mark the monarch's arrival. The last time it was sounded was for the birth of Prince George last summer.
Queen Elizabeth and Prince Philip also visited Watermen's Hall to celebrate the 800th anniversary of the Royal Watermen which transport monarchs up and down the River Thames.
Colin Middlemiss, clerk of the Company of Watermen and Lightermen, said: "We were really the taxi drivers of the day. If you wanted to move around London you used the river as the roads were pretty foul."