London property crisis 'would be solved with mansions'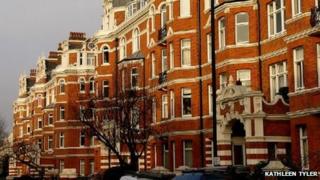 Utilising city mansion houses properly could solve London's housing crisis, Prince Charles' foundation has said.
Housing London: A Mid-Rise Solution said using old or building new properties of between five and eight storeys would increase accommodation.
It said new properties could be built along transport corridors, brownfield sites or when regenerating current estates for multiple occupants.
But, architect Dominic Papa said a "more balanced" approach was needed.
'Lowest density'
The report from The Prince's Foundation for Building Community said London's current affordability and housing problems were threatening its "vitality and vibrancy", with the average house price 12 times an average salary.
The trend for expensive and luxurious skyscrapers was also splitting the rich from the poor.
In its alternative proposals, the report praised areas including Mayfair and Notting Hill, which benefit from mansion or Victorian-era houses providing both living and green space with residents able to live on separate floors.
Properties can also exist closely together, it said.
The foundation said: "London has one of the lowest density rates of any major city around the world, and undoubtedly needs to densify in order to meet the level of demand facing the city."
'Fundamental shift'
But Mr Papa, director of architectural firm S333, said: "It's (mansion house) very small. It's fine when you have really good sites in London where you can deliver on big pieces of land but most of the sites are more constrained with railway viaducts, A-roads, and all the things we want to keep."
The Mayor of London's £1bn housing strategy plans to deliver 42,000 homes each year for the next 10 years, but only 17,000 homes were built in 2013.
The foundation estimates that up to 36,000 new households arrive in London annually, but only 24,500 properties are built leaving an estimated shortfall of 559,000 properties by 2022.
The trust claims that to negate that problem financial and planning incentives could be introduced to encourage developers.
"Without a fundamental shift in the way housing is being produced in the city, London stands to lose so much of the vibrancy and identity that has held it up as one of the world's greatest cities," it said.