Meredith Kercher death ruled 'unlawful' by Croydon coroner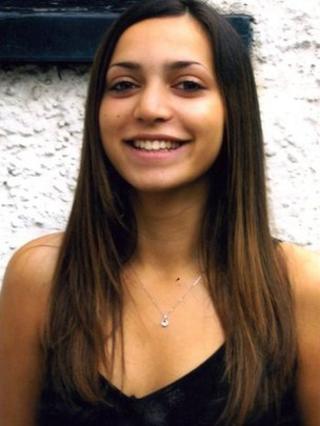 UK student Meredith Kercher was "unlawfully killed" when she was stabbed in the neck at her Italian home, a coroner has ruled.
The 21-year-old from Coulsdon, south London, was killed in 2007 at the flat she shared with Amanda Knox in Perugia.
The inquest into her death took place at Croydon Coroner's Court.
American Knox, 26, and Italian Raffaele Sollecito, 29, were found guilty of Miss Kercher's murder in 2009, but cleared two years later on appeal.
However, in January their guilty verdicts were reinstated at Italy's highest court.
Knox returned to the United States after the appeal, while Sollecito remains in Italy where the legal case against the pair continues.
Rudy Guede, a drug dealer, is serving a 16-year sentence over the death, though the courts have said he did not act alone.
'Keen for closure'
None of Miss Kercher's relatives was present for the five-minute inquest hearing.
Coroner's Office manager Barry May said he had liaised with Miss Kercher's brother, Lyle, who had spoken to family members.
They were said to be "content" for proceedings to take place in their absence.
Dr Roy Palmer, who is senior coroner for the south London area, said: "She died, the autopsy tells us, as a result of haemorrhagic shock from stab and incised wounds to the vasculature of the neck.
"I do conclude that she was unlawfully killed."
The coroner said he believed the Kercher family was "keen for closure" after "all these years".
He said it was "appropriate that I do bring some closure to them by completing the inquest".
Meredith Kercher had been studying at Leeds University and was in Italy as an exchange student when she was killed.