East London needs a new Thames bridge, say businesses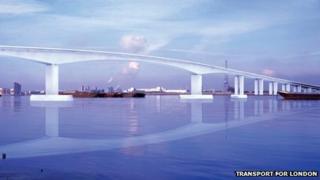 A new Thames bridge in east London "needs to be built" to cope with a population increase, the London Chamber of Commerce and Industry has said.
The business group has launched a campaign to have a new crossing built at Gallions Reach.
Plans for the Thames Gateway Bridge were originally scrapped by Mayor of London Boris Johnson when he was elected in 2008.
However, a consultation in May 2013 revealed public support for a bridge.
Bridge preferred to ferry
A spokeswoman for the Chamber of Commerce and Industry said the city was expected to grow by 1.5 million people over the next 20 years, with the majority of growth expected in east and south east London.
"No new road capacity has been developed in east London since the opening of the southbound Blackwall Tunnel in 1967," she said.
"To the west of Tower Bridge there are 22 road crossings in Greater London, to the east there are just two."
There are tunnels at Rotherhithe and Blackwall and, to the east of London, the Dartford crossing connects Essex and Kent - with southbound traffic using a bridge and northbound traffic two tunnels. Vehicles can also cross the Thames on the Woolwich Ferry.
The Transport for London consultation last year found the idea of a bridge at Gallions Reach - to be built by 2021 - was supported by 71% of respondents, compared to 52% who backed a ferry.
A spokeswoman for the Mayor of London said: "The Mayor has been a strong and vocal supporter for more river crossings in east London and is pushing them ahead as fast as national infrastructure processes allow.
"To suggest otherwise is disingenuous. He has already built the Emirates Air Line which has carried 3.4 million passengers and is pressing ahead with the Silvertown Tunnel in order to double capacity of Blackwall by 2022."