Police van 'catapults' over car in Bermondsey crash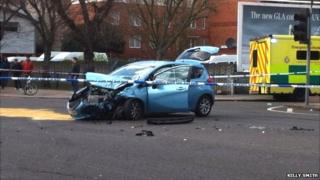 A police riot van "catapulted" over a car in south-east London injuring six people, Scotland Yard has confirmed.
The van, thought to have been travelling with its blue lights flashing to an emergency, was in collision with a hatchback in Bermondsey before ending on its side.
Scotland Yard said it was alerted to the crash at 13:00 GMT and six people were treated for minor injuries.
Eyewitness Fernando Grace tweeted: "The police van catapulted over the car!".
Melissa Tran, a receptionist at the nearby Hair Candy salon, said she thought the driver of one of the vehicles was a female driver in her late-20s who was with a male passenger in his 50s.
She added: "She was very shaken and so was her passenger but there was no blood and they didn't seem to be seriously hurt."