Work starts to transform BBC Television Centre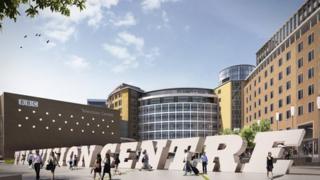 Work has started to change the former BBC Television Centre into new homes, a hotel, offices and leisure facilities.
Developer Stanhope, which bought the Grade II listed site in July 2012, said work would create 2,700 jobs.
Plans to change the building into homes and a hotel received planning permission from Hammersmith and Fulham Council in December 2013.
Television Centre, in White City, west London, opened in 1960 and shut in March 2013.
Television Centre is currently vacant, but plans include office space for BBC Worldwide and some studio space where staff will be able to work from April 2015.
The listed central ring and the main studio will be preserved under proposals passed by the council on 20 December.
In a statement, Stanhope said the remaining space would be aimed at occupiers interested in transforming the area into a media business hub, cinema, gym, restaurants and cafes.
Stanhope and the BBC started infrastructure work on the site this month.
The company intends to start major construction work on the rest of the site from April next year.