Trevor Ellis: Murdered man's mother appeals to silent witnesses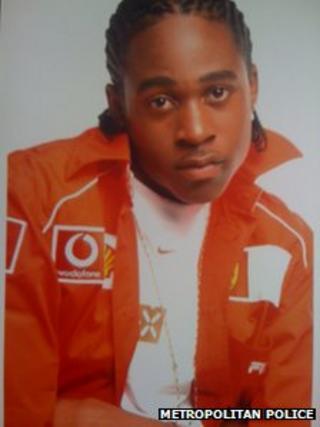 A mother whose son was shot dead during the London riots in 2011 has said those who are keeping quiet about the killing are "no better than the murderers".
Trevor Ellis, 26, of Brixton Hill, died from a gun shot wound to the head. Thirteen people have been arrested since but none charged with his murder.
His mother, Joy Sanderson, said her son's murder was witnessed by "three car loads of people".
Police want people with video footage of rioting in the area to come forward.
Mr Ellis, a father-of-four, was in a black Ford Fiesta with his friends on 8 August 2011 when they parked in Scarbrook Road, Croydon, and a row broke out with some looters.
A car chase then ensued and the Fiesta was boxed in by a Silver Peugeot 308 and a black Vauxhall Astra in Duppas Hill Road, where a black man got out of the Astra and shot Mr Ellis in the head.
'Keeping your mouths shut'
He was taken to hospital but died the next day.
Ms Sanderson said: "Trevor's murder was even harder because this all happened when all the rioting was going on, the murderer made my son's life insignificant.
"Some people have said that it serves him right for being out there, if only he had said no to his "friends" for picking him up and diverting him from his way home. But no matter where he was that does not give anyone the right to take his life.
"I know on that awful night of my son's murder it was witnessed by three car loads of people.
"What are you all doing by keeping you mouths shut? You are all no better than the murderers; he could have been your family member."
Investigators are appealing for anyone who has video footage of rioting in the area to come forward.
Det Ch Insp Diane Tudway said: "Whilst we have exhausted all CCTV avenues, we have not ruled out that someone may have captured additional footage of Trevor's killers looting in the moments shortly before they returned to Scarbrook Road.
"Allegiances may have shifted for some people and they may now wish to speak to us about what they know."