Jimmy Mubenga: G4S guards face plane death charges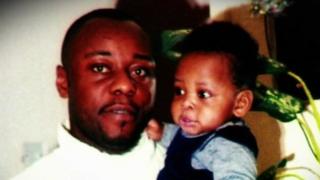 Three G4S custody officers will face manslaughter charges over the death of Jimmy Mubenga who died on a plane as he was deported from the UK.
The Crown Prosecution Service (CPS) confirmed Colin Kaler, Terrence Hughes and Stuart Tribelnig would be charged.
Previously, an inquest jury found Mr Mubenga was unlawfully killed by G4S guards who were restraining him.
The 46-year-old died after falling ill as a flight prepared to leave Heathrow Airport for Angola in October 2010.
He died of cardio-respiratory collapse, the inquest found.
Family meeting offer
In a statement, the CPS said it had "reviewed the evidence" relating to the death and believed there was "a realistic prospect of conviction".
It said: "We had previously decided in July 2012 that no charges should be brought in relation to Mr Mubenga's death.
"In accordance with the code for Crown Prosecutors, the decision now is that there is sufficient evidence and it is in the public interest for Colin Kaler, Terrence Hughes and Stuart Tribelnig to be prosecuted for manslaughter."
Mr Kaler, 51, from Bedfordshire, Mr Hughes, 53, from Hampshire and Mr Tribelnig, 38, from Surrey were employed by G4S Care and Justice Services UK Limited as detainee custody staff.
They will appear at Westminster Magistrates' Court on 7 April.
The CPS also considered whether G4S should be prosecuted for corporate manslaughter but concluded that there was "insufficient evidence to prosecute".
It added: "We will be writing to the family of Mr Mubenga to explain our decision making, to offer a meeting should they so wish and again offer our condolences."
In a statement G4S said the three men charged no longer worked for the company and it no longer had a contract escorting detainees from the UK.
It said: "The death of anyone in our care is deeply felt by all of us and the death of Mr Mubenga was a tragic event.
"The welfare of those in our care is always our top priority and we took great care to ensure that our employees on this contract... were made aware of their responsibilities in this respect.
"These employees were also trained, screened and vetted to the standards defined by strict Home Office guidelines."
It added: "We believe that at all times we acted appropriately and in full compliance with the terms of our contract."
Mr Mubenga and his wife, Adrienne Makenda Kambana, lived in Ilford, east London, after arriving in the UK in 1994.
In 2006, he became involved in a dispute on an evening out that led him to being convicted of actual bodily harm and he served two years in prison.
He was in the process of applying for permanent UK residency when the decision to deport him was taken.