Battersea Dogs Home: Work begins on £4.9m kennels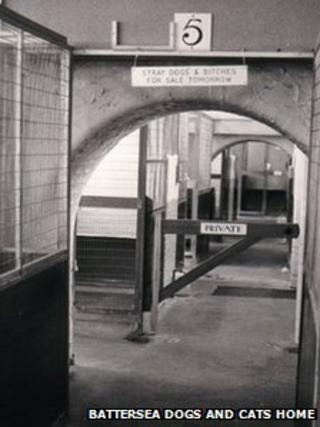 Work has started to upgrade 56 kennels at Battersea Dogs and Cats Home which date back to 1907.
The charity is upgrading 56 "intake" kennels which are used when the dogs first arrive at the centre.
The project will cost a total of £4.9m, the first £3m of which has already been secured. The charity said it had started a public campaign to raise the final £1.9m.
Battersea Dogs Home said the work would be completed by the end of the year.
Chief executive Claire Horton said: "Battersea originally offered a lifeline to stray dogs in Victorian times.
"Years later, our need to help stray, abandoned and unwanted dogs is just as great, but our ancient kennels are not good enough."
The charity, which cares for 6,000 dogs annually, said its upgrade plans included making sure each kennel does not face another to prevent intimidation, each kennel would also have its own paddock and under-floor heating.
Up to 14 dogs arrive at the home every day and the intake area is considered a "crucial time for dogs".
The kennels have so far survived two World Wars, the London Blitz and rabies epidemics, but despite being refurbished over the years they are no longer fit for purpose, the charity added.