John Terry's father racial abuse claims 'embellished'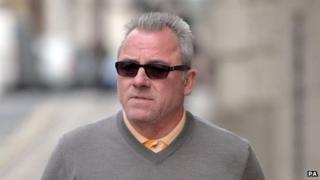 A man allegedly racially abused by footballer John Terry's father has denied in court that he "embellished" his story to sell it to the papers.
Ted Terry, 59, allegedly attacked railway worker Amarjit Talafair in the City of London on 22 March.
Mr Talafair told the Old Bailey that Mr Terry racially abused him, but he admitted swearing at Mr Terry and calling him bald and fat.
The Chelsea captain's father, from Grays, Essex, denies the charges.
Selling the story
Stephen Niland, 36, and Tudor Musteata, 47, are also accused of racially abusing Mr Talafair.
The alleged victim said Mr Terry had approached him and asked for a cigarette in a fake eastern European accent, before abusing him and attempting to headbutt him.
The court heard Mr Talafair reported the incident to the police the next day after researching Mr Terry online.
He also admitted asking officers about taking his story to the newspapers, but was told it would interfere with the investigation.
Alexia Power, for the defence, asked Mr Talafair: "You have embellished this with racial abuse because of who he is, haven't you?
"You are saying this now because you want to sell your story to the papers, aren't you?"
Mr Talafair said: "No - you can't abuse someone for the colour of their skin and have an argument just because I'm Asian and try and assault me."
He told the court he had sworn at Mr Terry and called him fat. "I did, yes, because I was angry, I did say that," he said.
Cigarette row
Mr Talafair, who worked as a customer services worker for railway firm C2C, told the court he had been celebrating a colleague's birthday at a pub on the afternoon of the alleged attack.
He told the court he was not injured when Mr Terry headbutted him because he moved back, but if he did not "[Mr Terry] would have broke my nose or something".
A cleaner at Fenchurch Street station, Bakeba Mansuila, told the court that he had also been racially abused as Mr Terry's group left the pub.
The court heard that Mr Mansuila, who was drinking from a bottle of rum, approached the group and one of the men, who was not Mr Terry, turned around and said: "What are you going to do with that bottle mate?"
Railway station worker David Bridson told the court he saw Mr Terry take the bottle of rum that Mr Mansuila had been drinking and make racist threats towards him.
"I was in the middle of both of them and I actually held the bottle to stop him from doing anything," Mr Bridson said.
Mr Bridson said that he saw Mr Terry at Fenchurch Street station six days later and overheard him saying on his mobile phone: "When the police call, tell them I never said those things."
Mr Terry denies one count of racially-aggravated common assault and one count of racially-aggravated fear or provocation of violence.
Mr Niland, from Romford, Essex, and Mr Musteata, from Greenwich, south-east London, each deny one count of racially-aggravated fear or provocation of violence.