Women's Library officially opens in new LSE home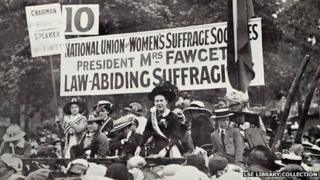 A renowned collection documenting women's history over the past 150 years has officially opened at the London School of Economics (LSE).
The Women's Library includes more than 60,000 books and 5,000 objects such as photographs, posters, badges, banners, textiles and ceramics.
In 2012 London Metropolitan University said it could no longer afford to house the collection.
A petition was signed by more than 12,000 people in protest.
The Women's Library, established in 1926, was housed in converted public baths in Old Castle Street, Aldgate, east London, from 2001.
LSE library director Elizabeth Chapman told BBC Radio 4: "It [the collection] was in a building which had been purposely refurbished for it and so there was a lot of objection to moving it but LSE has brought it into the orbit of a huge social science collection."
She added: "I would say it's a critical part of our national heritage.
"It documents the struggles of women not just to get the vote but many other campaigns - largely a campaigning collection coming right up to date."
The new Reading Room was opened by former president of Ireland Mary Robinson and it will be open to the public.