PC Keith Blakelock 'screamed for help' during machete attack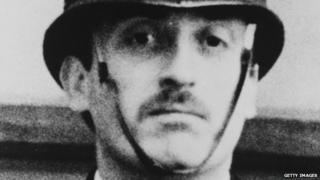 PC Keith Blakelock curled up in a ball and screamed for help as a mob hacked him to death during the Broadwater Farm riots, an eyewitness has told the Old Bailey.
The witness used the pseudonym John Brown and had his voice distorted by a modulator to protect his identity.
He said he saw Nicholas Jacobs stab the 40-year-old police officer between two and four times with a machete in Tottenham in October 1985.
Mr Jacobs, 45, denies murder.
'Excitement of situation'
Asked by Richard Whittam QC, for the prosecution, what the officer was doing during the attack, Mr Brown said: "What I saw, he was trying to curl up into a ball, I suppose to protect himself somehow."
"Did he say anything?" Mr Whittam asked.
"I just heard screams of 'Help, help, help'."
Mr Brown, a former member of the Park Lane Boys gang, who accepted a caution for assaulting his partner in 2010, said Mr Jacobs was wielding a machete with a 12-inch (30cm) blade.
"He was attacking the officer and hit him with a couple of blows on his body, stabbing up and down with the machete," he said.
He told the jury that he himself had kicked the officer some 10 times after he went to the ground.
Asked why, he said: "Looking back on it, I don't know.
"It was the excitement of the situation, I just rushed forward and kicked him about 10 times."
'Stockpiling petrol bombs'
Mr Brown told the court he was 18 or 19 years old at the time of the riots, while Mr Jacobs was 16.
He said the Park Lane Boys had been preparing for the riots days before PC Blakelock's death, by stockpiling petrol bombs at a fish and chip shop and it was "common knowledge" there was going to be trouble.
He told the jury that he had heard others say Mr Jacobs was going around saying he was going to "give an officer a hiding if he got the opportunity, or do some damage".
But the court heard that Mr Brown had not mentioned Mr Jacobs in the first statement he gave to police about the riots in 1986 and instead waited until later statements before placing him at the scene.
Cross-examining the witness, defence barrister Courtenay Griffiths QC said: "You very deliberately chose to name Nicky Jacobs; one, because he was young; two, because he posed no threat to you; and three, you quite wrongly thought that he had been charged with murder. Is that true?"
Mr Brown disagreed.
'Kickers and stabbers'
Moving on to a new statement Mr Brown made in 1993 claiming, for the first time, he saw Mr Jacobs using a machete, the defence barrister asked whether it had been done for the £5,000 police reward he received.
"No, definitely not," Mr Brown replied.
When a fresh investigation into PC Blakelock's death got under way in 1992, suspects were separated into "kickers and stabbers".
Those who had not used weapons - "kickers" - were given immunity from prosecution as police tried to identify who had stabbed the officer to death.
It was then Mr Brown gave evidence claiming for the first time that he had seen Jacobs use a weapon, the court heard.
Mr Griffiths asked the witness if police officers had visited him at his home in June 1993 and told him that, in order for there to be a "realistic prospect of prosecution", three or four witnesses would need to come forward.
He also asked if Mr Brown had then put his cousin up as an eyewitness in order to get the reward.
While he acknowledged police had visited him, Mr Brown said he "totally disagreed" with the barrister's claim.
The trial continues.