Thames boardwalk among winning London cycle schemes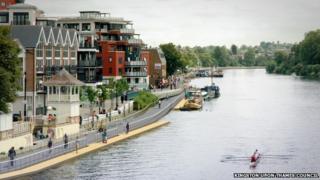 A cycling boardwalk by the River Thames forms part of one of the three winning projects awarded up to £30m in a competition to create "mini Hollands" in London.
Eighteen outer London boroughs proposed cycle-friendly schemes in a competition for funds and Kingston, Enfield and Waltham Forest councils won.
Bexley, Ealing, Merton and Richmond councils were also commended.
The Green Party said the funds should be increased and rolled out further.
The mayor of London said the five runner-up boroughs would receive some funding.
The "mini Holland" initiative is intended to make local communities as cycle-friendly as their Dutch equivalents, said Boris Johnson.
He said: "We can't do everything at once but don't underestimate our determination."
Highlights of the winning boroughs include:
Kingston: Plaza outside Kingston station to feature new cycling routes and cycle-only boardwalk, either fixed or floating
Enfield: Town centre to be redesigned with segregated superhighways and three cycle hubs plus greenway routes
Waltham Forest: Semi-segregated superhighway route along Lea Bridge Road and creation of cycle-friendly low-traffic neighbourhoods.
Runner-up design highlights include:
The Kingston boardwalk would be about 700m (2,300ft) long and run between between Thames Side, just north of John Lewis to the start of the unbuilt waterfront and Queens Promenade at Town End Parade on High Street.
Kingston Council's submission said it would help cyclists avoid the town centre.
London Assembly Green Party member Darren Johnson said the funding announcement was "exciting news for around a sixth of the outer London boroughs, but will leave cyclists and those wanting to cycle disappointed in all the rest".