Tottenham Hotspur fans cleared over 'yid chants'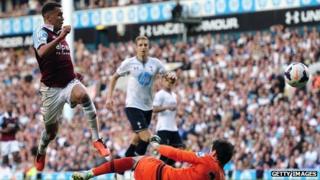 Charges have been dropped against three football fans accused of using the word "yid" at Tottenham Hotspur matches.
Gary Whybrow, 31, of west London, Sam Parsons, 24, of Amersham, and Peter Ditchman, 52, of Bishop's Stortford, were accused of a public order offence.
The Crown Prosecution Service (CPS) said the words could not legally be counted as "threatening, abusive or insulting" in the circumstances.
Police had warned fans against using the word, which means Jew in Yiddish.
Act of defiance
Mr Whybrow and Mr Parsons were charged after Spurs' Europa League match against FC Sheriff on 7 November, while Mr Ditchman allegedly used the language at the game against West Ham on 6 October.
Baljit Ubhey, from the CPS, said there was insufficient evidence to provide a "realistic prospect of conviction", so the cases were discontinued.
He said: "As part of the review, the context of the use of the words alleged in this case was reconsidered, and we have decided that, although the same words used in other contexts could in theory satisfy the criteria for "threatening, abusive or insulting", it is unlikely that a court would find that they were in the context of the three particular cases in question."
Spurs have a strong Jewish following and have been the target of abuse from opposition fans.
However, some Spurs supporters use the term themselves in an act of defiance.