Motorists find cyclists hard to spot, AA survey shows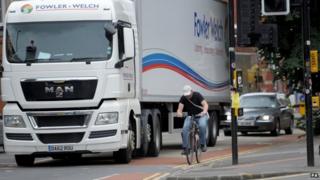 Up to 93% of motorists say it is sometimes hard to see cyclists while driving, according to a survey of nearly 18,000 drivers.
More than half (55%) are often "surprised when a cyclist appears from nowhere", the AA/Populus survey said.
Drivers in London were the most likely to look out for pedal cyclists, while drivers in Wales and Northern Ireland were least likely to do so.
The survey coincides with a national AA bike awareness campaign.
Initially, about one million free stickers will be distributed to drivers as a reminder to do a "double take" in their mirrors for cycles and motorcycles in their blind spots.
The campaign is backed by British Cycling, the Motorcycle Industry Association and the Metropolitan Police.
AA president Edmund King said: "Our campaign is definitely needed when half of drivers are often surprised when a cyclist or motorcyclist 'appears from nowhere'.
"Those on two wheels never appear from nowhere, so as drivers we need to be more alert to other road users."
The AA/Populus survey of 17,629 adults also found that 54% believed pedal cyclists were inconsiderate road users, with men (57%) more likely to believe this than women (47%).
Asked about motorcyclists, 40% of drivers said motorcyclists were inconsiderate, with this number increasing to 46% among Londoners and 49% among drivers aged 25 to 34.
London Mayor Boris Johnson recently announced plans to make some of the most dangerous junctions in the capital safer for those on two wheels.
Mr Johnson said: "This is a brilliantly simple idea which if widely adopted will undoubtedly save lives - and it reminds us, too, that cyclists and drivers have a common interest in looking out for each other."