Met Police Taser use on children rises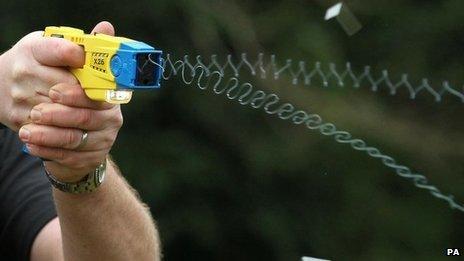 Taser use against children by the Metropolitan Police rose six-fold over four years, according to campaigners.
Stun guns were used on nine young people in 2008 and 53 in 2013, the Children's Rights Alliance for England (CRAE) discovered.
Children were targeted 131 times between 2008 and 2012, with varying rates across the city's 32 boroughs, the group revealed.
The Met said the rise was in line with the number of police carrying Tasers.
The statistics were obtained through a Freedom of Information request by CRAE.
'Vastly different treatment'
Its director Paola Uccellari said: "Children living in the same city are experiencing vastly different treatment, depending on where they happen to grow up, and this is not always linked to obvious explanations such as high child poverty or crime rates."
She said 70% of the occasions when Tasers were used on children occurred in a quarter of London boroughs.
In Croydon, Southwark, Lambeth and Lewisham children were Tasered 51 times between 2008 and 2012 - 40% of the total - according to the figures.
The UN Committee on the Rights of the Child has previously expressed concern at the authorisation of Tasers for police officers in England and Wales and called for them to be classified as weapons.
A Met spokesman said: "The increased use of Tasers on under 18-year-olds is in line with the general increase in the use of Tasers, which is as a direct result of the fact that over the past year Taser-trained officers are present in all 32 boroughs."
About 2,000 officers out of the Met's 31,000 are trained and equipped to use Tasers, a spokesman said.
The Met defends their use saying they are valuable tools in reducing the risk of harm to the police, violent offenders and members of the public.
CRAE published the Taser figures as part of a wider report into children and human rights in the capital.
It discovered that the use of stop and search powers against children dropped by 66% between 2009 and 2013.
However, how stop and search was used varied greatly from borough to borough.
Ninety-one children were stopped on average a week in Southwark, compared with 19 a week in Kingston upon Thames, Merton, Hillingdon and Sutton.
Children in London were imprisoned at almost twice the rate of children in England as a whole, CRAE said.
In the capital, children in Lambeth were 30 times more likely to find themselves in custody than those in Richmond.
Related Internet Links
The BBC is not responsible for the content of external sites.