£4bn plan to revamp London's roads announced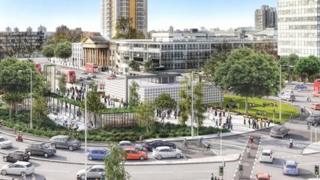 Elephant and Castle's northern roundabout will be transformed into a public space with cycle routes, under plans from London's mayor.
The proposal is part of a £4 billion programme for dozens of locations, including the IMAX roundabout at Waterloo and the Croydon Fiveways.
Elephant and Castle will be one of the biggest developments, creating 5,000 new homes and 4,000 jobs.
Boris Johnson said the plans were a "smarter design" of roads.
The proposals are in response to the Mayor's Roads Task Force report which was released in July.
The report suggested more bus services, cycling and walking routes should be introduced in the capital.
The northern roundabout at Elephant and Castle will have a new road layout, as well as an improved interchange for buses.
In addition, the IMAX roundabout at Waterloo will also be redeveloped with better facilities for cyclists.
The programme will see investment in 17 locations across the capital, including work to reduce traffic congestion at Croydon Fiveways junction and better crossings for pedestrians at Euston Road.
Mr Johnson, said: "Smarter design of our roads and public spaces, exemplified by our radical plans for Elephant and Castle, will play a key role in ensuring that London remains the best big city to live, work and invest."
Last month it was announced that 33 junctions where more than 250 cyclists and pedestrians have been seriously injured or killed in the last three years are to have £300m spent on them.