Roree Cox sentenced to life for Kevin Ssali murder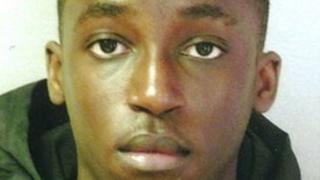 A man has been sentenced to life in prison after being found guilty of murdering a 14-year-old boy in a "revenge" attack.
Roree Cox, 18, was found guilty of murdering Kevin Ssali on the top floor of a south London bus after an argument in 2012.
Judge Wendy Joseph told Cox at the Old Bailey: "I am quite sure you armed yourself before the incident."
Cox, from Lewisham, must serve a minimum of 14 years.
During the case the court heard that Kevin was arguing with Cox's brother while on the 202 bus in Burnt Ash Road, Lee, in September 2012.
The brother then phoned Cox, who boarded the bus and took a knife out of his shoe before stabbing Kevin.
During the sentencing Judge Joseph said: "You deliberately took off your shoe and took out the knife.
"You deliberately held the knife in your hand and you ran up those stairs intending to use it."
She added she was sure there was an element of revenge in his actions.
A post-mortem examination found the teenager died from a stab wound to the heart.
The court heard that Kevin's mother, Clemence Mudage, had escaped the genocide in Rwanda when her son was born and moved to England to give him a better and safer life.
Cox had been on bail at the time of the attack, charged with robbery, and should not have been in the area, the court heard.