Syria prison death: Abbas Khan 'did not take own life'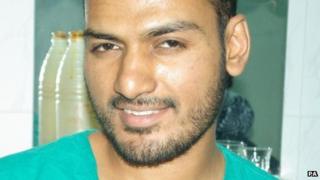 The family of a British doctor who died while in custody in Syria has received assurances he did not take his own life, a pre-inquest review has heard.
The Syrian regime claimed Dr Abbas Khan, 32, from Streatham, south London, took his own life in his prison cell.
But his family is adamant Mr Khan, who died on 17 December just days before he was due to be released, was murdered.
The Foreign Office is required to "answer some questions", the Royal Courts of Justice was told.
Mr Khan was arrested in Syria in November, 48 hours after arriving in the country to work in a field hospital in a rebel-controlled area.
The family's counsel, Michael Mansfield QC, told the court Dr Khan's mother Fatima and sister Sara had held discussions with people in Syria who were prepared to speak "off the record".
Mr Mansfield said the two women attended a peace conference in the Middle Eastern country.
'Not suicide'
While the Syrian authorities were not interested in speaking to them, some people were, the hearing was told.
"They did have conversations with people who were prepared to speak off the record," he said.
These people said "as far as some people are concerned in Syria, Dr Abbas Khan did not commit suicide", Mr Mansfield claimed.
Dr Khan's mother had been told by Syrian president Bashar Assad's adviser her son would be released, the court learned.
But, Mr Mansfield said, Dr Khan was being used "as a pawn in a different game" - suggesting the Syrians wanted to be seen as humanitarian in releasing Dr Khan and therefore encouraging the British government to recognise the Syrian regime.
The Foreign and Commonwealth Office are required to "answer some questions", he added.
Mr Mansfield asked why a man who believed he was going to be released would take his own life.
The next pre-inquest review hearing is to be held at the Royal Courts of Justice on 9 May.