Met raids alleged high profile family gang in London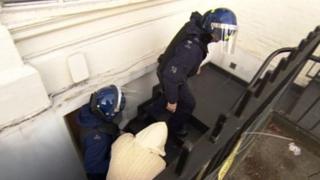 A suspected crime gang alleged to be one of the UK's longest established has been targeted in raids across London, the Met Police has said.
The raids targeted suspected associates of the Adams family, who are alleged to be a criminal network.
Fifteen people have been arrested on suspicion of money laundering, fraud and conspiracy to assault.
About 200 officers executed warrants at 22 places, seizing firearms, expensive watches and about £150,000 in cash.
Police said they followed money trails linking property ventures and crimes.
Those arrested are in custody at a central London police station.
Det Chief Supt Tom Manson claimed: "The links between this gang and serious and violent crime are well documented as is their strong influence across London, and, we believe, connections to criminals across Britain and Europe.
"We believe they are responsible for a multi-million pound criminal business; laundering the profits from crime and using this money to commit other money-spinning offences."
Some of those arrested are believed to be behind the finance arm of the gang, involving working as accountants, mortgage brokers and property developers, police added.