London cyclist 'safety concerns growing'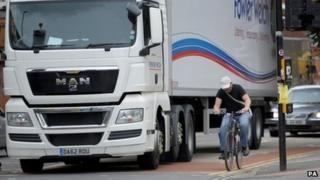 Concern is growing among London cyclists about safety on the roads, according to a London Assembly report.
More than two-thirds of cyclists were more worried about safety than six months previously, said the study, called Cycling in London - An Update.
Labour Assembly member Valerie Shawcross said: "The mayor and TfL can't keep stalling."
On Tuesday, the London mayor's office announced that 33 junctions are to have £300m spent on them.
A total of 6,333 people responded to the London Assembly survey, which was conducted in November and December.
Segregation 'biggest issue'
More than 80% of cyclists said they were worried about cycling in London, while more than 20% said they were making fewer journeys because of safety concerns.
Ms Shawcross, who chairs the London Assembly Transport Committee, said: "Segregation is the biggest issue for cyclists and they believe that better traffic junctions are critical to their safety.
"The mayor and Transport for London (TfL) can't keep stalling - they need to make short-term improvements for cyclists by this summer."
Upon publishing a map, which identifies the 33 intersections to undergo improvements, London mayor Boris Johnson said the old junctions were "relics of the '60s" and were "atrociously designed and wasteful of space".
Leon Daniels, a TfL managing director, said designers and engineers had worked "flat out" to develop the new junction designs, which will include two-way roads, segregated cycle tracks and new traffic-free public space.
Andrew Gilligan, the mayor's cycling commissioner, said: "We have had to completely redesign the cycling programme to new, more ambitious standards. We have to work with the 32 boroughs, who own 95% of the roads. There are no short cuts or magic wands in any of this.
"Our choice is to do it quickly, or to do it properly. We have chosen to do it properly."