Aaron De Silva guilty of Joseph Griffiths murder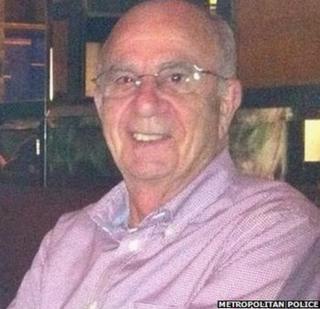 A prolific burglar has been convicted of murdering a grandfather who he stabbed to death in his London home.
Aaron De Silva, 21, stabbed Joseph Griffiths, 73, 22 times after breaking into his house in Hazlebury Road, Fulham, early on 10 November, 2012.
De Silva had tried to plead guilty to manslaughter on the grounds of diminished responsibility.
However, the prosecution refused to accept the plea and he was tried for murder.
'Completely brutal'
Successive psychiatric reports found that while De Silva may have had a personality disorder, he was suffering no mental illness at the time of the killing.
De Silva has 31 previous convictions, including robbery, assault, burglary and carrying a knife.
He told the jury at the Old Bailey he regularly carried a blade because it was "cool".
Mr Griffiths' wife Judith described to the court during the trial how she had heard an "awful sound" the night her husband was attacked and then found him lying motionless in a pool of blood outside his bedroom.
Prosecutor Brendan Finucane QC said it was "a completely brutal and overwhelming assault on an elderly man in his own house where he was knifed 22 times to his body".
Mr Griffiths was a successful businessman who had run a mechanics in Fulham for nearly 20 years.
He and his wife had lived in their home for more than 50 years.
Mark, one of Mr Griffiths' two sons, said: "Mum took the brave decision to return to the house where her husband was murdered, trying to live her life as normally as possible.
"This is the house where one of her children was born and where both sons were raised."
He added that Mr Griffiths' seven grandchildren had been particularly hard hit by the murder, which had left a "gaping hole" in the family.
Judge sentenced father
The Old Bailey was shown CCTV footage recorded in the hours after the killing, which showed De Silva dancing while he played music on a computer.
De Silva told the jury he only had a sketchy memory of the killing but that he had not intended to hurt anyone.
He said he had wanted to escape from the house as quickly as possible and burgled it because he wanted money and was hungry.
The court heard that De Silva had walked to Fulham from his hostel in West Kensington, armed with a knife, with the intention of burgling.
He climbed through back gardens and stole a pair of bolt cutters from a shed before using them to break into Mr Griffiths' house.
De Silva's defence barrister had claimed his client had been traumatised at the age of seven when armed police raided the family home to arrest his father.
Emmanuel De Silva was later sentenced to 24 years for armed robbery by Judge Timothy Pontius - the same judge who has presided over his son Aaron's trial.
Aaron De Silva has spent every one of his past seven birthdays in detention.
He was put in care at the age of nine, expelled from school at the age of 13 for stealing the school minibus, and first convicted of house burglary at the age of 14.
The year before the murder, aged 18, De Silva had been given 18 months' detention for two assaults. But by November 2012 he was free once again, and able to kill Joseph Griffiths.
De Silva will be sentenced on Friday.