Manuela Sykes in dementia care court victory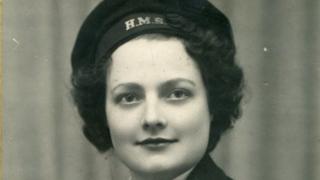 An 89-year-old woman who suffers from dementia and says she is "miserable" in a care home has won the first stage in a court fight to live in her own home.
A Court of Protection judge has ruled Manuela Sykes can return to her flat where she has lived for 60 years on a one-month trial basis.
Westminster City Council social workers had raised concerns about her welfare if she left a care home.
The judge said all viable options should be explored.
Ms Sykes was a Labour councillor at Westminster and has campaigned for better treatment for dementia. She also stood for the Liberals in the Ipswich by-election of 1957.
Lawyers representing the pensioner said the judge's decision to allow identification was "rare".
Political influence
Anne-Marie Irwin, a specialist Court of Protection solicitor who had represented the pensioner, said: "Although the kindness of her carers was praised, Manuela was miserable at the care home, and we asked the court to consider if it is truly in her best interests to remain deprived of her liberty."
District Judge Anselm Eldergill said if a trial was not attempted she would never again have the chance to live in her own home.
He also ruled Ms Sykes could be named in media reports - in line with her wishes and after journalists argued that identification would be in the public interest.
The Court of Protection makes decisions and appoints deputies to act on behalf of people who are unable to make decisions about their personal health, finance or welfare.
Hearings are often held in private and people involved are not normally identified because of their vulnerability.
Judge Eldergill said that his decision to lift the "usual veil of anonymity" had been "finely balanced".
But he said Ms Sykes had always "wished to be heard", would want her life to end with a "bang, not a whimper" and had a "last chance to exert a political influence".
A Westminster City Council spokesman said Ms Sykes needed dedicated 24-hour care but it would accept the court's decision and work with her representatives.