London Tube staff handed £25 strike break bonus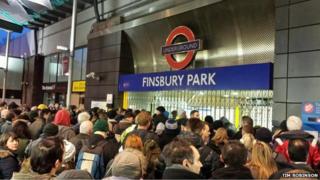 Tube staff who volunteered to work during this month's strike have been awarded £25 vouchers "by way of a thank you" from transport bosses.
Thousands of employees walked out from 4-6 February over plans to close all ticket offices on the London Underground network, cutting 950 jobs.
London Underground confirmed it gave £25 for each shift staff worked.
Manuel Cortes from the TSSA union called it "gesture politics" and said it was "wasting public money".
The Transport Salaried Staffs Association (TSSA) said the total cost of vouchers would total more than £22,000 if it was true that 950 staff volunteered to be on duty during the strike.
General Secretary Manuel Cortes said: "Instead of wasting public money on grandstanding gimmicks, he [Mayor of London Boris Johnson] would be better off focusing on how he caused the dispute in the first place.
'Pointless industrial action'
"Before the walkout, he said he would keep services running with an army of 1,000 volunteers. On the day, the service was at a virtual standstill because only a few hundred actually turned out."
Transport for London (TfL) said the vouchers were part of a wider internal scheme used by the company to nominate and reward staff who go "above and beyond" their duty.
The vouchers can be redeemed at a number high street shops, TfL said.
It added that the decision to reward staff with vouchers had been taken last week, after the strike.
Phil Hufton, London Underground's chief operating officer, said: "Hundreds of our staff volunteered to help keep London moving during the recent pointless industrial action called by the union leaderships.
"In recognition of doing this over and above their day jobs, staff who volunteered will receive a voucher for £25."
A second 48-hour strike was called off the following week when unions and London Underground agreed to hold fresh talks on the future of ticket offices.