Fires started deliberately in London drop by 87% over 10 years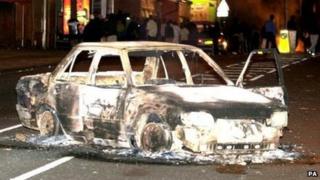 The number of fires started deliberately in London has fallen by 87% over the past decade, London Fire Brigade (LFB) has revealed.
In the last financial year LFB attended about 81 deliberate fires each week compared to 644 in 2003/4.
The brigade attributed some of the decline to car-scrap schemes which meant vehicles were no longer abandoned on roads, reducing arson opportunities.
Kensington and Chelsea saw the biggest fall with 94% fewer deliberate fires.
LFB said the price of scrap metal had increased over the past 10 years, reducing the number of vehicles being abandoned, and that councils were quicker to remove abandoned cars or rubbish.
Its Juvenile Firesetters Intervention Team, which works with young people showing "firesetting behaviour", and a rise in CCTV cameras in the city are also believed to have helped.
The number of accidental fires has also dropped, falling from 18,271 in 2003/4 to 15,805 last year, with Twitter and Facebook among the methods being used to help educate people.
Rob McTaggart from the fire service said: "The work we do on Twitter is to hit an untapped target group, the young professionals, who have around 25% of all house fires.
"Showing a pair of burnt our hair straighteners for example [on Facebook] got seen by four million people and that certainly helped."