Buckingham Palace: Pollution blackspot near royal residence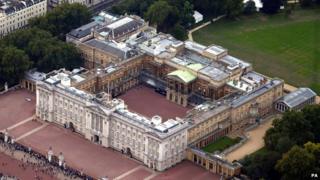 Air pollution near Buckingham Palace is the worst in the UK and almost four times the EU legal limit, figures show.
The average annual level of nitrogen dioxide (NO2) in Grosvenor Place, near the Queen's central London residence, is 152 micrograms per cubic metre of air.
Oxford Street near Marble Arch had the second highest level, 150 micrograms, a Freedom of Information request showed.
The EU limit is 40 micrograms of NO2 per cubic metre of air.
Inflame lungs
Parts of Marylebone Road, Regent Street and Piccadilly also had more than double the legal levels of NO2.
NO2, which in the main is produced by diesel cars and trucks, can inflame the lining of the lungs and lead to respiratory disease.
The Department for Environment, Food and Rural Affairs (Defra) released details of 50 UK locations with the highest modelled concentrations of NO2 in 2012.
Last week the European Commission launched legal proceedings against the UK for failing to deal with "excessive" levels of NO2 in many cities.
It was supposed to meet EU limits by 2010 but the government admits that London will not achieve this standard until 2025.
'Steadily improving'
A Defra spokesman said air quality had "improved significantly in recent decades" but meeting NO2 limits near busy roads had been a challenge.
He said 21 other member states reported their emissions did not comply with the annual mean target for 2012 but it was "investing heavily in transport measures to improve air quality around busy roads".
Jenny Bates, from Friends of the Earth, said: "Urgent steps are needed to tackle the dangerous levels of dirty air found in many parts of London - and end the scandal that kills tens of thousands people prematurely in the UK each year."
A spokesman for the Mayor of London said: "London's air quality is steadily improving, meeting legal limits for eight out of nine EU regulated pollutants.
"Since the mayor was elected, NOx [nitrogen oxide] emissions have reduced by 20% and the number of people living in areas exceeding NO2 limits has halved, but he fully recognises the need to take further action.
"This includes the introduction of the world's first Ultra-Low Emission Zone in central London from 2020, tougher requirements for taxis from 2018 and a £20m fund to tackle local problem areas."